THE PREVOST FAMILY

OUR COAT OF ARMS
Prevost de Tournay Coat of Arms "J'ai bien serve" (I have served well)
My Prevost ancestors came from the village of Tournay in southern France. They may have been exiled for religious reasons and ended up in the island of Santa Domingo (possibly Haiti) around 1791. We suspect they owned sugar plantations which were worked by African slaves. After several bloody revolutions of the slaves, on 9 July 1809, Santo Domingo was born. The government put itself under the control of Spain, earning it the nickname of "Espaρa Boba" (meaning "The Idiot Spain") One story says that around 1809 Madam Prevost and her 3 small children escaped from the slave uprisings, were picked up by a passing freighter and they landed in Charleston; later she found out that her husband had been murdered by the slaves. Her husband's name I do not know for sure (some say his name was also Joseph Prevost, but I do not believe this is true). Possibly J. M. Prevost..
Madam Prevost's name is said to have originally been Charlotte Amelia Mattuce Prevost. In Charleston, we believe she married Mr. Benjamin Abrams and for some unknown reason was known as Elizabeth Mattuce Abrams. She and Mr. Abrams had 3 additional children, whereupon both she and Mr. Abrams died and the Abrams children ended up in the Charleston Orphanage. When they were old enough to work, Joseph Prevost, their older half brother, took them out and gave them jobs.
Madam Prevost's 3 Prevost children were: Rose Prevost (b. 1805) Joseph Prevost (b. 10/23/1806), Margaret Emma Prevost (b. 9/27/1807). The son Joseph Prevost married Frances Taylor of Columbia and they had one child, John Blair Prevost (b.6/6/1839); then Frances Taylor died. Joseph Prevost married again and had several more children. During the Civil War in Charleston, Joseph Prevost who was too old to serve) hired a conscript to fight for him in the Confederate Army, and he moved to Anderson, SC where he is buried.
John Blair Prevost married Mary Marshall Orr in Anderson, SC and had one child, Marshall Blair Prevost (b. 1877) who was born a few months after his father died. She remarried Captain Earle. Mary Marshall Orr was the daughter of SC Governor, James Lawrence Orr, also Speaker of the US House Of Representatives and eventually Ambassador to Russia. He died in St Petersburg.
Marshall Blair Prevost was my grandfather. He married Gerda Luyties in 1903 and they had 5 children: Marshall Laurens Prevost, Gerhardt Luyties Prevost, Tournay Prevost (my father), Herman Christie Clare Prevost and Gerda Prevost McCahan (see history, scroll way down below). I am always interested in any information, so if you know of the history of the Prevost de Tournay family, please contact me. I would especially love to know who Joseph Prevost's father was! eslamberson@msn.com

CELEBRATING 100 YEARS IN BEAUTIFUL DOWNTOWN GREENVILLE!


History of the Prevost Apartments
About the Architectural Style

The Prevost Apartments were built ~ 1917 or earlier by Marshall Blair Prevost. We know this because one of the old boilers is signed by the maker as installed in 1917. The architect was Lloyd A Clark, the Contractor was John C Green. They are Prairie Style architecture made famous by Louis Sullivan and Frank Lloyd Wright. In Greenville, they are quite different from most other architectural styles.

Through the turn of the century, Frank Lloyd Wright's distinctively personal style was evolving, and his work in these years foreshadowed his so-called "prairie style," a term deriving from the publication in 1901 of "A Home in a Prairie Town" which he designed for the Ladies' Home Journal.

Prairie houses were characterized by low, horizontal lines that were meant to blend with the flat landscape around them. Typically, these structures were built around a central chimney, consisted of broad open spaces instead of strictly defined rooms, and deliberately blurred the distinction between interior space and the surrounding terrain. Wright acclaimed "the new reality that is space instead of matter" and, about architectural interiors, said that the "reality of a building is not the container but the space within."

Here is a link to the first Frank Lloyd Wright Prairie Style house in the US from 1901: www.delmars.com/flwtrip/willits.htm and to another lovely 1902 house: www.delmars.com/flwtrip/wmartin.htm and another 1905 house www.delmars.com/flwtrip/adamsm.htm

Many architects consider examples of Prairie Style to be the first truly modern architectural design. Wright believed that a design drew its beauty from within -- from its own structure -- rather than from applied decoration. Wright created the philosophy of "organic architecture." The central principle of this belief maintains that the building should develop out of its natural surroundings. From the outset, Wright exhibited bold originality in his designs for both private and public structures and rebelled against the ornate neoclassic and Victorian styles favored by conventional architects.

The Prevost Apartments were built to provide housing
for families after WWI. We believe they are the 2nd oldest apartment buildings and the first apartment complex in Greenville and are located at the intersection of E. Washington St and E. McBee Ave across the street from the Poinsett Club. They are walking distance to downtown Greenville, the BiLo Center Arena, Court house, The Peace Center, Cleveland Park & Zoo, Christ Church and all of the Pettigru Historic District. These lovely old Art Nouveau Era buildings have a wonderful history and many happy memories for hundreds of families over these past 80+ years. In September 2002, the Prevost Apartments became the property of the Prevosts' grand daughter, Elena Prevost Lamberson, who lives with her family on Johns Island, near Charleston, SC.

A Little History About the Prevosts
The Historic Renovations of the Prevost Apartments is in
loving memory of these family members who rest together at Christ Church Cemetery in Greenville, SC: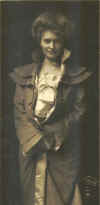 Gerda Luyties Prevost (1879-1971) (Father: Herman Luyties, MD Mother: Louise Rein Luyties) Gerda (Gea'-dah) was an artist, poet, model, and stunningly beautiful woman of the world. Born in the wealthy St Louis Luyties family (pronounced Loo - teez) who developed the famous Luyties Pharmacal Company (one of the oldest family owned companies in the US), Gerda and her older 2 brothers (Herman & August) and 2 older sisters (Anna and Lily) traveled the world and were educated in Europe. She spoke fluent German, Spanish and French. Her sister, Lily Luyties Clare lived in Paris. Her brother August was a carriage devotee and for a time, drove carriage horses with the Anheuser family. The most charming Gerda met the equally charming and dashing Marshall Blair Prevost while their respective families were on vacation at the Greenbrier Resort in West Virginia. After a long distance courtship, they married in 1903, whereupon her new husband whisked Gerda away to the jungles of Mexico, in the state of Guerrero to manage silver and copper mines. He taught her to become an excellent marksman and at each camp he would set up a series of matchboxes on a fence. Using her shiny new Smith & Wesson rifle, she would blast each one off the fence in a grand display, showing the natives how well she could handle a gun (and defend herself). The natives were truly amazed by the Prevosts. Marshall Prevost was 6'6" and Gerda was 5'9" with long blonde hair and blue eyes. Not only had they never seen such tall people, but they were astounded by this fair skinned, blue eyed woman. They thought she was a goddess and followed her everywhere. Each morning when she opened the shutters of their house, there were the village people waiting to see her again! She was in charge of the horses, pack mules, cleaning the guns and making certain their boots were shaken each morning to remove deadly Mexican scorpions! They lived in Mexico until ~1907 and then moved to St Louis where their first two sons were born: Marshall Laurens Prevost (1908-1931) and Gerhardt Luyties Prevost ("Gerry" 1910-1977). Gerda was known as "Mima" by my brother, Marshall, and me. Mima was extremely intelligent, charismatic, incredibly charming and imaginative, a lovely, elegant lady, kind, gentle and wise, she taught us many lessons in life...she walked in beauty ... and I still miss her.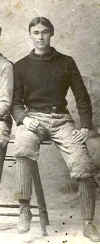 Marshall Blair Prevost (1877-1933) Father: John Blair Prevost, Mother: Mary Marshall Orr Prevost (remarried to Civil War veteran, Captn William Earle and was later known as Mary Orr Earle)
Granddaddy was born in Anderson, SC in 1877 just a few months after his young father (John Blair Prevost) died of pneumonia. He and his mother moved to Washington, DC to live in the home of his grandfather, James Lawrence Orr, formerly Governor of South Carolina, who had also been Speaker of the US House of Representatives and later US Ambassador to Russia. Marshall was educated in Washington, DC. He attended and played football at Princeton University. He was very athletic, loved to wrestle, play footfall and tennis. He was a prolific reader, philosopher, musician and poet. A serious artist, and art collector, he studied at the Art Student League in New York City and after moving to Greenville in 1911, mentored many art students at his studio at 1 Washington Place. He formed the Fine Arts League of Greenville which eventually became the foundation of the Greenville Art Museum.
Marshall & Gerda Prevost and their two young sons, Marshall & Gerry, moved from St Louis to Anderson, SC and began building their home at 1 Washington Place (now 701 E. McBee Ave) in Greenville, SC which was completed the end of 1911 or early 1912. Their third son Tournay Prevost (1912-1953) - my father - was born in 1912, followed in 1914 by Herman Christie Clare Prevost ("Christie" 1914-2002) and finally in 1920 a daughter, Gerda Luyties Prevost (McCahan 1920-1993). My Aunt "Gerda Jr", 6'3" tall, was a distinguished Professor at Furman University and well respected clinical psychologist, having earned her PhD at Columbia University in NYC and was one of the first women to become a Diplomate in Clinical Psychology.


Gerry Prevost (1910-1977) Gerry was like a father to my brother Marshall and me after our own father, Tournay, passed away in 1953 when I was 8 and Marshall was 6 1/2. Tall (6'6") and extremely handsome, Gerry took us to every imaginable fun place for adventures - mills, workshops, junkyards, farms, fish camps, hardware stores, lumber yards and hundreds of other exciting places for youngsters. We rode around in his trucks and station wagons full of tools, water heaters, big bags of money from the vending machines, various mechanical parts and other odds and ends. Gerry told us stories about WWII where he served in the Sea Bees. Of the 3 living Prevost sons, he was the only one fit enough to serve in the armed forces, and although he was over age, he insisted on joining the Navy to serve his country, much to his mother's horror. He taught us to build things, fix things, repair coin changers, use the coin sorter and wrapper, saw, hammer and paint things, to be honest, ethical, patriotic, to mind our manners, respect our elders - and we simply adored him. I love to remember him - such a gentleman, so tall and handsome - dressed in white tie and tails and dancing with him at the Assembly Ball.... I will never stop missing him.

History of the Prevost Apartments
Article in the Greenville News
by Historian Judith Bainbridge 2/12/03

APARTMENT BUILDINGS WERE THE HEIGHT OF STYLE IN 1918

By Judith Bainbridge
CONTRIBUTING WRITER
Three bedraggled buildings cluster around Roma Way.

And where, you might reasonably ask, is Roma Way?

What must be the shortest named street in Greenville extends perhaps 50 feet along the triangle where East McBee Avenue merges into East Washington Street across from the Poinsett Club.

Once Roma Way was Washington Place. And once the Prevost (pruh-VO) Apartments, the only property facing the street, were among the premier addresses in the city.

Actually, none of the three has a Roma Way address. According to the Post Office they are located at 711 and 715 E. McBee and 714 E. Washington.

Greenville's first "apartment complex" is easy for passing drivers to ignore. The two-story buildings are not assertive; unkempt landscaping hides their crumbling cream stucco, discolored window frames, narrow driveway and rutted parking area.

The Prevost Apartments have seen better days and — with a massive infusion of funds — may see them again.

I hope so. They are historically and architecturally significant. When Marshall Blair Prevost had them built in 1918, they were among Greenville's first designed apartments.

Although rooms — apartments — above downtown commercial buildings had long been rented to transients, widows, and new residents, Greenville's first "apartment house," the Davenport Apartments at the corner of East Washington and Church Street, was not completed until 1916.

It opened just in time to take advantage of the influx of new residents, especially young professionals drawn to Greenville by the textile industry. They sought convenient living quarters with all the amenities — electric stoves and porcelain sinks, unshared bathrooms with modern fixtures, and telephone connections.

M.B. Prevost obviously recognized the need for rental accommodations — but the three buildings he had wedged into the oddly shaped plot near his own East McBee home must have been more difficult to complete than the popular Davenport.

When World War I came to Greenville, building supplies vanished. At the same time, the new courthouse, now Family Court, the County Jail on Broad Street, and Camp Sevier were being constructed.

But housing needs increased with the war. Hundreds of the 100,000 men eventually stationed at Sevier brought wives and families with them. Boarding houses over-flowed; homeowners rented unused rooms; apartments leased quickly.

Although completing the 12 units may have been a struggle, it was one that paid: one-bedroom apartments leased for $35 a month, the equivalent of $466 today.

And they were elegant.

Designed in the nationally popular "Prairie Style," introduced by Frank Lloyd Wright at the turn of the century, they offered fireplaces, hardwood floors, elaborate moldings, spacious rooms and, for the fortunate few who owned automobiles, even a small parking area, all in one of Greenville's most prestigious neighborhoods.

Two of the larger units offered "sleeping porches," glassed-in sunrooms, considered particularly healthy for invalids.

Their designer, Lloyd A. Clark, was the first architect in the state to be registered (in 1917) by the new Board of Architectural Registration, but according to a standard architectural source, "he worked in obscurity."

Maybe he was ahead of his time. The Prairie Style, with overhanging eaves, earth colors, stucco and wood exteriors, and casement windows never flourished in Greenville.

"Broad Margin" on West Avondale Avenue, designed by Wright himself in the 1950s, is the only other major Greenville example.

The owner of the Prevost Apartments was also ahead of his time — or at least different from it.

Marshall Prevost's roots went deep into Upstate soil; his grandfather was James Orr of Anderson, who was governor of South Carolina during Reconstruction, and later speaker of the House of Representatives and ambassador to Russia.

Prevost grew up in Washington, D.C., graduated from Princeton, and studied at the Art Students League in New York. After his 1903 marriage to Gerda Luyties, the imposing (he was 6-foot-6; she was 5-foot-9) young couple went to Mexico to manage copper mines.

In 1910 they moved to Greenville and into their newly built home at 701 E. McBee Ave. Although he had a real estate office on the corner of Main and McBee, his primary interest was art. A connoisseur and collector, a teacher, and a mentor to young artists, he later founded the Fine Arts League, the predecessor to the Greenville County Museum of Art.

Now, after 30 years of neglect, his granddaughter, Elena Lamberson and her husband, Gary, are restoring the Prevost Apartments.

It's as difficult a job as it was 80 years ago. All the original electric wiring and plumbing must be replaced, generations of paint stripped and repainted, air-conditioning installed, and renovations and repairs made inside and out to create luxury apartments without harming the historic fabric of the buildings.

But the restoration will honor the Prevost family and enhance Greenville's housing market.